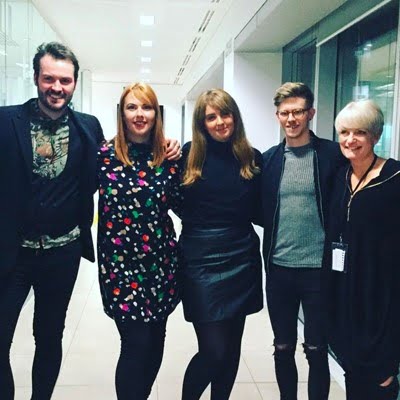 Fellowship Clubstar presents an evening with Rush
On Monday 13th February the Fellowship ClubStar hosted an evening in conjunction with Rush. The event took place at the L'Oreal International Academy in Hammersmith and was a sell out event! This was the first ClubsStar event of 2017 so everyone was really looking forward to it. What a great evening last night presenting on stage with […]
Back to listings
On Monday 13th February the Fellowship ClubStar hosted an evening in conjunction with Rush. The event took place at the L'Oreal International Academy in Hammersmith and was a sell out event! This was the first ClubsStar event of 2017 so everyone was really looking forward to it.
Doors opened at 6:30 PM and the guests mingled whilst they waited to be shown to their seats. The champagne was flowing, and everyone was looking forward to seeing the talented Rush team show off their work. The inspirational evening was being led by Cameron Byrne, M J Farmer, Jamie Benny and Sophie Chandler.
The show began at 7 PM. Kerry Mathers began by welcoming everyone to the exciting event before introducing our Rush Art Team to the stage! MJ and Cameron took to the stage first, and they told the audience that they would be presenting an S&M punk collection. Whilst the pair of them were busy cutting and colouring their model's hair they were talking through what they were doing and their inspirations for the collection.
Jamie Benny and Sophie Chandler then came onto the stage whilst Cameron and MJ were finishing their looks behind the scenes. Jamie and Sophie were working on their sports luxe collection. The sports luxe collection featured a lot of braids, plaiting, curling and voluminous hair.
Jamie and Sophie finished their looks with their final spritz of hairspray, Cameron and MJ joined them to present their final looks. The group invited the audience to get involved by taking plenty of photos. The Fellowship team reminded everyone to use the hashtag #clubstar17 when Instagramming images.
The looks created by the team were amazing as always! Many thanks to the Fellowship ClubStar for hosting such a great event and the L'Oréal Academy in London for providing the venue for the evening.