Rush Cambridge is now open
Last Saturday saw us open our doors again, this time for the first time in Cambridge! The salon was opened by our new franchisee, Gentiana Restelica. We are so excited to have opened another Rush Salon in a brand new city, our new Franchisee Gentiana recently moved here with her sister Agnesa. She wanted to […]
Back to listings
Last Saturday saw us open our doors again, this time for the first time in Cambridge! The salon was opened by our new franchisee, Gentiana Restelica.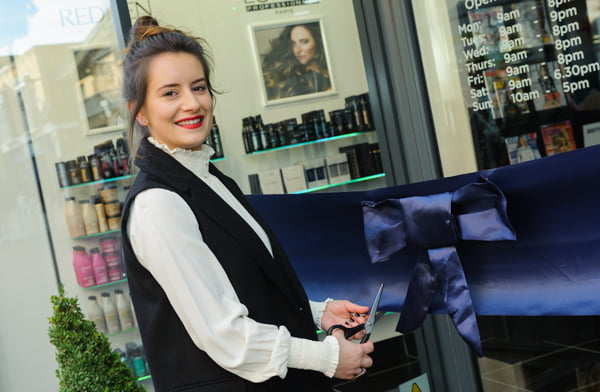 We are so excited to have opened another Rush Salon in a brand new city, our new Franchisee Gentiana recently moved here with her sister Agnesa. She wanted to pursue her dream of opening her own salon and thought Cambridge was missing a Rush and would be the perfect place to open a stylish, modern Rush Salon!
Rush Cambridge's opening day was busy with customers and Christmas shoppers, all being treated to goodie bags, bubbly, cupcakes and exclusive opening offers.

Gentiana cut the ribbon to her salon with her family and friends around to support her and Rush Co-Founder Stell Andrew and Operations Director, George George Phouli.
Rush Cambridge is our 75th salon and 15th salon we have opened in the last 12 months. Opening in full festive flair with beautiful trees and ornate wreaths, the salon is a spacious modern salon, nestled in the heart of the city centre with glossy black interiors throughout and a low lit relaxing spa room.
Gentiana is looking forward to owning her own salon in Cambridge,
I'm excited to bring Rush to the community and build close relationships with clients here in Cambridge. There are so many students here and our salon is in a perfect location right by the city centre, it's hard to miss us!
Come and meet the team at Rush Cambridge and make the most of the opening offers.