12 Copper Hair Colour Ideas Trending in 2022
If you habitually get tired of your tresses, we'll bet you love trying out the latest hair colour trends on the regular. Us too. Well, the hue on everyone's lips right now is copper and it's all that you're picturing, but better. This look can be tailored to you in a whole host of ways, […]
Back to listings
If you habitually get tired of your tresses, we'll bet you love trying out the latest hair colour trends on the regular. Us too.
Well, the hue on everyone's lips right now is copper and it's all that you're picturing, but better. This look can be tailored to you in a whole host of ways, with dark, vibrant, soft and light shades to choose from, and it can be executed beautifully as a balayage or an all-over colour, depending on how brave you're feeling and how regularly you like to visit the salon.
Find your closest Rush hairdressers then keep reading for sizzling copper red hair colour ideas from the talented Kirsty Judge, a member of the Rush Colour Workshop Team.
1: Bright copper pixie cut
We are huge fans of this vivid copper pixie cut with a dramatic side-swept fringe. Bear in mind it might take several sessions to achieve this shade depending on your current colour, but *all eyes on you* is guaranteed.
2: The pink-purple-copper hybrid
Take inspiration from this mane for a multi-dimensional, futuristic spin on the copper hair trend, achieved with a skilled balayage technique. An icier look like this can wash out cooler skin tones though, so chat it through with your stylist before you get started.
3: Dark red with a coppery balayaged fringe
Searching for a way to reinvent your straight hair? Make like our client and choose all-over red colour with a full, blunt fringe, complete with pumpkin-spiced coppery balayage. Global colour means a strict salon appointment schedule, but for day-to-day styling, this look will be a cinch for straight locks.
4: Gingery, all-over copper
It'd be easy to walk past our client on the street and mistake her for a natural redhead, but it's time to do a double-take! We can hardly believe that this joyous ginger/copper pigment is stylist-made, yet it happened in our salon.
5: Strawberry-blonde copper waves
The more you look at this colour, the more shade variations you'll notice, dancing across the beachy waves, and that's exactly what we love about it. It's a masterpiece if we say so ourselves, and the overall aesthetic is strawberry blonde, like you've never seen her before. A beautiful transitional choice if you're making the move to copper from blonde.
6: Rihanna-red ombré copper curls
Completely averse to the natural look? Go back in time to Rihanna's red hair phase and feast your eyes on copper's fiery sibling, pillar box. We've created a subtle ombré to tie the two together for this red-carpet-worthy sheet of curls.
7: Auburn-copper Old Hollywood glamour
Shine to die for and cascading Old Hollywood waves, plus this dynamic auburn-copper hue and you've got an ode to Jessica Rabbit she'd be proud of. Reflective, with shadowing for depth, hold the 1950s eyebrows.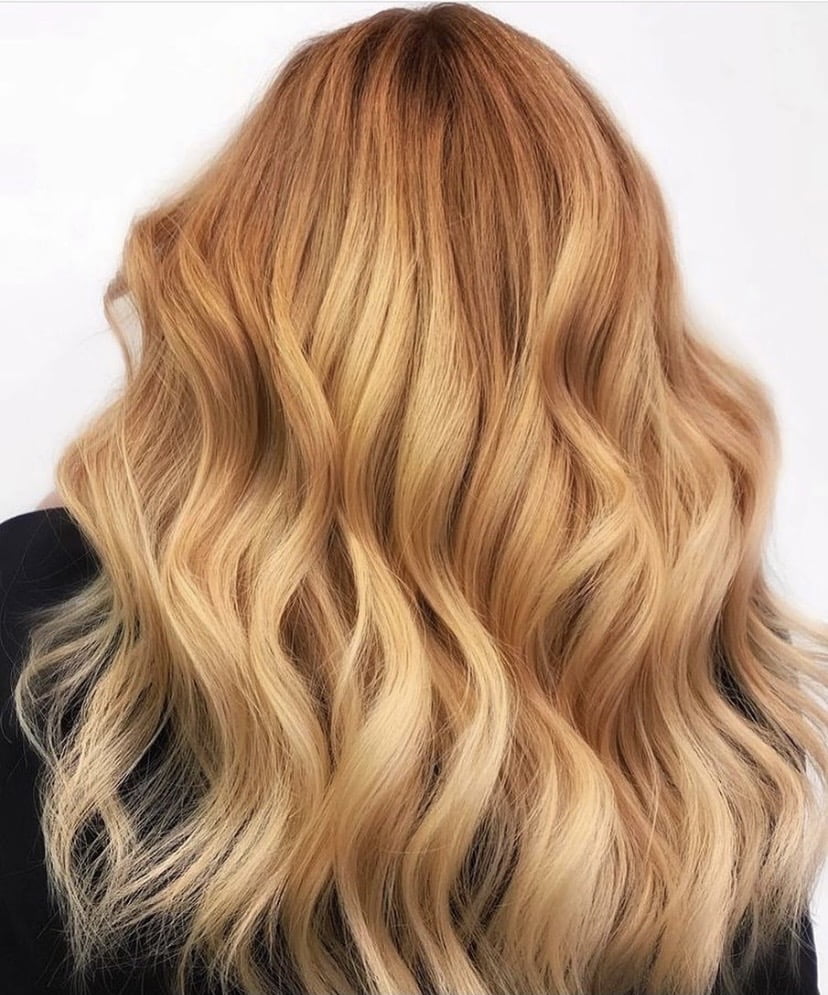 8. Honey-blonde with a hint of copper
An easy way for warm blondes to give a casual nod to the copper craze; ask your stylist for a rusty root shadow that blends out through honey-blonde into sandy ends.
9: Light copper with balayage highlights
For a simple, subtle shoulder-length 'do, we gave our client a light copper base colour and peppered through carrot-blonde highlights. This girl-next-door take makes for an enchanting combo with green eyes.
10: Warm, rusty copper lengths
There's something positively autumnal about this dimpled copper palette; it makes us think of cinnamon sticks, mulled wine and crisp, cool mornings – and we're not mad at it. For a rich and healthy hair glow that will leave friends asking what treatment you've had, take this image to your salon.
11: Deep copper with orange ombré
Our next client's loose, effortless copper curls are stunning; darker roots lifted and emboldened by orangey balayage.
12: Copper-tinted bombshell blonde
Have your cake and eat it too. For those of us who've no intention of straying from our signature colour, but simultaneously long to spice things up – you know who you are! – consider trying a very light, all-over copper tint. Our client's blonde bombshell waves boast a little extra je ne sais quoi with a tiny whisper of copper.
Copper hair aftercare
Remember, it is key to use salon-professional products at home to maintain that beautiful colour in-between salon visits. A personal favourite of ours is the new Kérastase Chroma Absolu range. It nourishes, protects and feeds sensitised hair, which means you can hold on to vivid colours for longer.
Don't cop out; make your copper hair fantasy a reality today!