Balayage vs Ombré. Do you know the difference?
It's no secret that Balayage and Ombré were – and still are – the hottest hair trends. The popular colouring techniques have effortlessly transitioned through into 2019 due to the constant demand of these looks. Both Balayage and Ombré provide a modern direction to highlighting hair; however, do you know the difference between a Balayage and an Ombré?
It's easy to confuse a Balayage and an Ombré as they are both dark to light looks and involve lightening the hair.  Yet, there are some key differences which are important to know when visiting your nearest Rush salon to ensure you achieve the right colour you desire.
Balayage
The word Balayage comes from the French word which means 'to sweep' or 'to paint'. Balayage is a free hand technique where the dye is painted onto the hair. Painting the dye onto the hair free hand creates a natural look with multiple dimensions of colour throughout the hair. A Balayage can be completely customisable to you – so it's a good idea to bring a photo for inspiration of the look you'd like to achieve!
Ombre
The word Ombré means 'shade' in French. An Ombré is a solid, gradual look that usually has a darker shade from the roots to mid length, then a lighter shade on the ends. The technique involves applying a colour to the roots and bleaching the bottom of your hair. It's recommended to always visit a salon if wanting to Ombré your hair to ensure the two shades perfectly blend, avoiding a harsh colour result.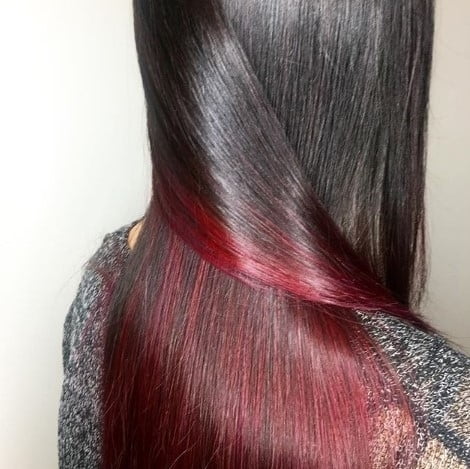 Both Balayage and Ombré are great ways to lighten up the hair without the worry of upkeep as they grow out beautifully without harsh growth lines! They're perfect for experimenting with lighter shades if you're a brunette, or for trialling a new bold colour! They add natural flow and stunning colour dimension to the hair, plus they're suitable for all hair types. If you're looking to try a new look we currently have up to 50% OFF all Colour! You can book your free consultation with a stylist at your nearest salon to discuss the right colours and bleach for your hair and desired look!