You'll Never Believe What Happened to This Supermodel!
It's hard to remember fashion before Kate Moss, which is a particularly remarkable observation to make when you consider how sensational she still looks. But the dates don't lie, Croydon girl Kate was first recruited as a model in 1988 when, aged just 14, she was spotted by Storm Model Management founder Sarah Doukas.
Her ascent to fame was shockingly rapid but, considered 30 years later, less remarkable than her incredible longevity. Somehow Kate Moss has managed to stay fabulously fashionable and relentlessly relevant ever since.
Over that time Kate's hair has undergone a multitude of transformations, without ever looking anything less than stunning. It's a hard trick to pull off if you're not Kate Moss, but her hair journey shows a willingness to experiment and an understanding of what works.
Glasto Bedhead
For all her iconic high fashion campaigns and runway performances, Kate's most memorable and influential turn might well be Glastonbury 2005, when she basically invented festival fashion by looking inconceivably cool in a pair of mud-spattered wellies. The mussed-up glam of her lived-in but luxuriant locks epitomised the tousled boho rock chick aesthetic of the mid-noughties.
Pixie Cut
At the start of the Millennium Kate chopped off her locks and adopted a boyish pixie cut. Needless to say, the bold new 'do beautifully complemented her delicate features, matching 60s Seberg and Farrow for chic elfin sophistication. In some ways this demure new look signalled a newfound maturity – Kate was pregnant and settling down with Jefferson Hack after a crazy breakout decade – but sacrificed none of the playful glamour that had characterised her 90s ascent.
Iconic Pink
Versace's Spring '99 show in Milan witnessed a rare and famous moment in catwalk history – a model's hair stole the limelight. The hair in question belonged to Kate Moss and it was dyed a showstopping shade of fuchsia pink ('rose dust pink' to be precise). At the height of her powers, Kate absolutely owned the look, creating an unforgettable moment of runway history and making an irrefutable case for pink hair's potential to look dazzling and glamorous.
Boho Waves
Over the years Kate's signature style has settled into a look that can loosely be described using words like 'boho', 'wavy' and 'tousled', all of which might be preceded by 'artfully'.
Has anyone mastered the art of hair that looks sexily dishevelled and fashionably put-together like Kate Moss? Her secret, as revealed to Grazia a few years ago, sounds perfectly effortless: 'I don't blow dry it properly. I just tip my head upside down, blast it with a hairdryer and go. It's all about the upside-down technique… I also like to leave it a bit damp, twirl it around with my fingers and let it finish drying.'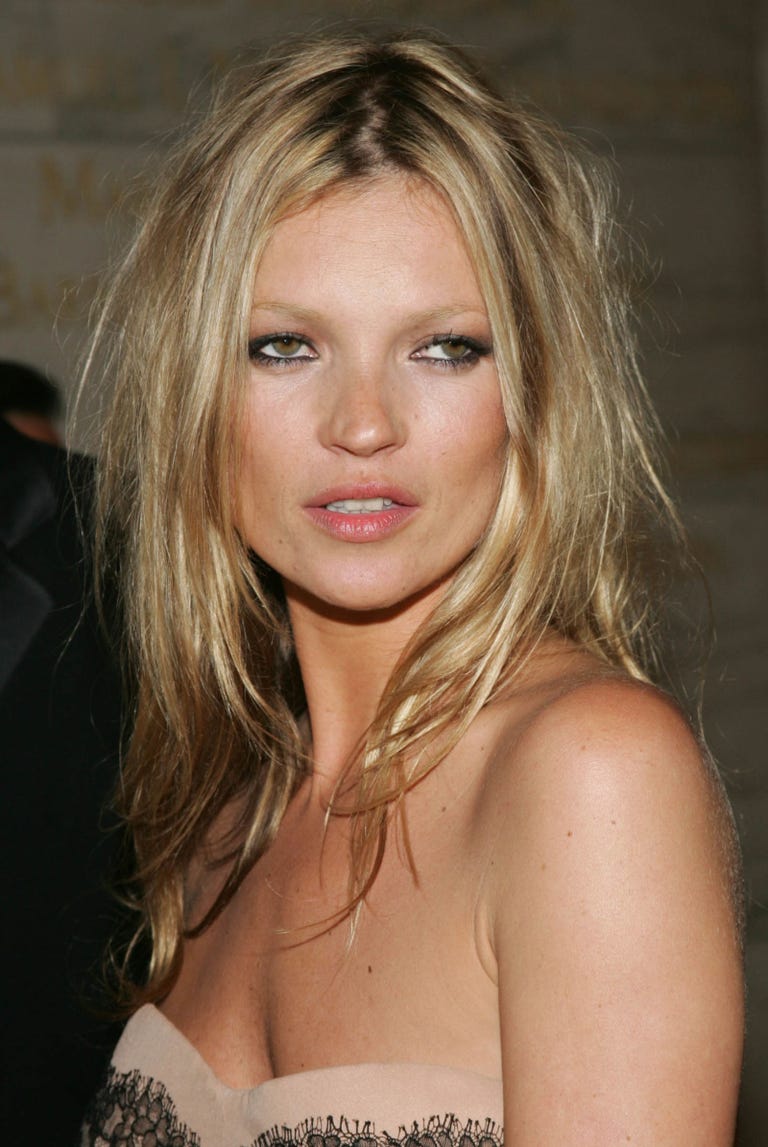 French Twist
One of Kate's go-to 'dos back in the 90s, the French Twist is a classic updo that's relatively simple, kinda casual and dependably chic. While it might still retain a 90s frisson – largely
thanks to Kate and Gwyneth Paltrow – the French Twist is a timeless updo that deserves a second look. It feels fitting that Kate revived the look for her hotly anticipated return to the runway, for Louis Vuitton, last year.
Choppy bangs
When we swooned about how sensational Kate Moss still looks in the intro we weren't kidding. Just this year she wowed in Armani's Autumn Winter campaign, rocking a sleek, straight light blonde bob, complete with a brow grazing choppy fringe.
While the look marks a distinct stylistic shift from the wavy boho look we're most familiar with these days, it's a perfect match for the shoot's stark black and white minimalism. It also presents further proof that this fashion icon hasn't lost her knack for a striking but elegantly executed transformation.
To recreate any of these styles visits our Croydon Hair salon or your nearest Rush Hair saloon.