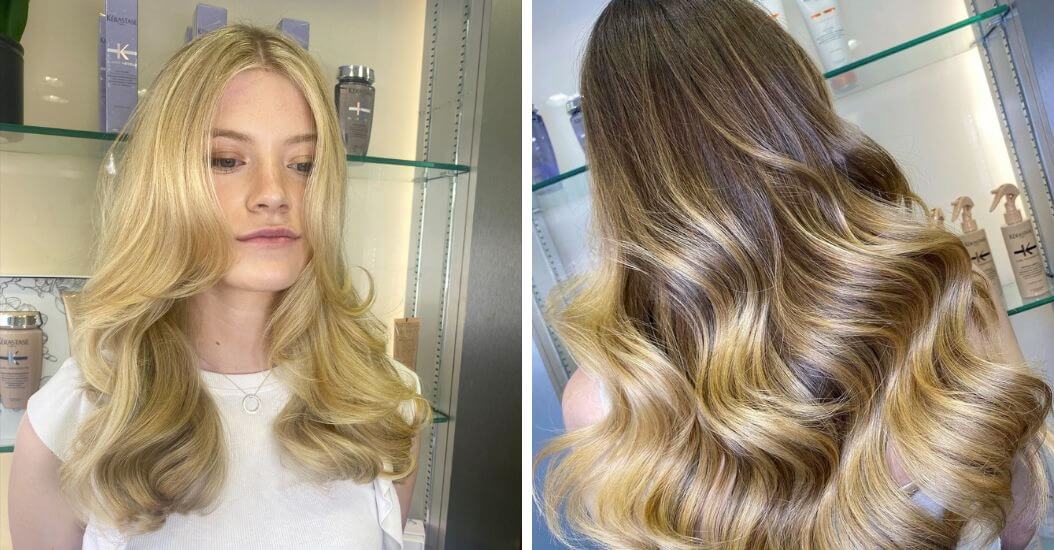 How to Achieve the Perfect Curly Blowdry Every Time
"A curly blowdry just isn't for me", said no one, ever. In fact, curly blows are requested so often in Rush salons that our oh-so-skilled stylists could do them with their eyes closed (they don't), and yet this A-lister favourite won't leave you feeling like one of the crowd. Your hair type, curl pattern, colour […]
Back to listings
"A curly blowdry just isn't for me", said no one, ever.
In fact, curly blows are requested so often in Rush salons that our oh-so-skilled stylists could do them with their eyes closed (they don't), and yet this A-lister favourite won't leave you feeling like one of the crowd. Your hair type, curl pattern, colour and cut will all play a part in your look, leaving you with a finish that feels truly unique to you.
For lots of us, it's the first style we think of when we want (no, need) to feel red-carpet-ready, so it's very tempting to practice doing it on yourself, to elevate your everyday routine.
That's why we asked Rush Creative Workshop team member, Nicole Appadu, to answer all of your questions and show you how to do a curly blowdry at home. Keep reading for her step-by-step guide…
Of course, we'd always recommend leaving it to the experts for those special occasions or for that regular pamper. Find a Rush hairdressers near you where you can get a salon-fresh curly blowdry to order.
Step 1: Wash, dry, comb and use priming products
Wash and condition your hair as you would normally, then towel-dry and comb through to banish any pesky knots.
While your hair is still damp, we recommend L'Oreal Absolut Repair Oil to protect your tresses from heat, and also lend that essential shine and touchable softness that goes hand-in-hand with a curly blow. We follow up with a dose of L'Oreal PLI to prime your strands for styling; this is our go-to product to add volume and keep the style in place for as long as possible.
Step 2: Rough-dry your mane
No need to be precise at this point; take your hands and your hairdryer (using the concentrator nozzle to boost volume at the roots) and rough-dry your hair until it's only slightly damp. Tidy up your handiwork with a paddle brush when you're done.
Step 3: Section your hair by length and area
You'll want to separate the top layer, particularly if it's a different length to the rest of your tresses, and split the remaining hair into sections that can be pinned up and out of the way, so you can focus on one area of your head at once. Play it by ear, but you'll likely end up with a top section, two on each side and two at the back.
Move your attention to the top section and separate enough hair for your first curl, clipping the rest out of the way.
Step 4: Dry the piece of hair from root to tip
Spritz the piece of hair with its own helping of L'Oreal PLI to enhance wave definition. Put your barrel brush underneath the root and blowdry up and away from your head, keeping the hairdryer close to your brush as it glides through to the ends.
Do this several times, wrapping the ends of your hair around the brush as you move it through the length. Next, wrap your hair around the brush from end to root, drying all the way. Leave for a few moments with the brush in place at the root, and the hairdryer directed towards it. Do this once or twice if your hair is stubbornly inclined towards straightness.
Step 5: Pin in place to set
Unwind the brush from your hair, brush through once more and wrap your curl quite tightly around two fingers, before pinning it in place against your head.
Step 6: Repeat the previous two steps across your head
When you're finished, each section of your hair should be split into pinned curls.
Step 7: Release the pins when you need to
The longer, the better, when it comes to leaving your pins in. We usually wait until 20 minutes before we need to leave the house, releasing each pin one by one, brushing through with a paddle brush, and setting the finished do with hairspray to keep those curls in place.
Curly blowdry FAQs
You asked, we answered:
What is a curly blowdry?
A curly blow is a hair drying method, using priming product, a hairdryer, pins and hairspray to create Hollywood-style body and life. The goal is to add loads of volume and sleek, loose, natural-looking waves and curls. Forget, 'I woke up like this", and think, "Effortlessly glamorous and #blessed".
How long does a curly blow last?
It depends on your curl type and hair thickness, but with the right products it should last at least a few hours for finer, straighter hair types and up to a few days for very curly and thicker hair.
Curly blowdry video tutorial
See Nicole Appadu in curly-blowdry action above in her video tutorial or head back to our blog for more how-to expertise, including our step-by-step guide to getting fluffy hair.