New salon, Rush Milton Keynes is now open!
We are thrilled to announce that Rush Milton Keynes is now open! The salon was opened by our new franchisee's, Andrew and Kelly on Saturday 30th July.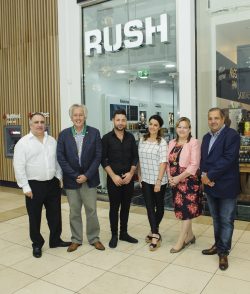 New franchisee's Andrew and Kelly welcomed the public at our Grand Opening at Unit 25, 53 Midsummer Place, MK9 3GB. On the day clients enjoyed our new opening offers, cupcakes, goodie bags, bubbly, and exclusive discounts.
We invited Deputy Mayor, Councillor David Hopkins to cut the ribbon at the new salon. We were also joined by Rush Co-Founder, Andy Phouli and Director, George Phouli who showed their support on the big day. They all welcomed clients and locals to join us and celebrate. Rush Milton Keynes revealed a stunning two floor salon featuring mirrored walls, exquisite chandeliers and statement aesthetics.
Apart from beautiful surroundings and an amazing looking salon, the team work together to create a warm, inviting, friendly and fun environment for clients to feel comfortable whilst receiving outstanding service every day. Offering beautiful hair at affordable prices and a team of some of the best hair stylists in the city, Rush Milton Keynes is the perfect salon to visit for a unique and luxury experience.
Rush Milton Keynes is a modern salon located in the Intu Shopping Centre in the bustling town with an idyllic landscape. Relax whilst having your hair cut, styled or blow dried with stunning views, a team dedicated to making your hair dreams come true and franchisee's set for success.
Come and meet the team at Rush Milton Keynes and make the most of our opening offers!