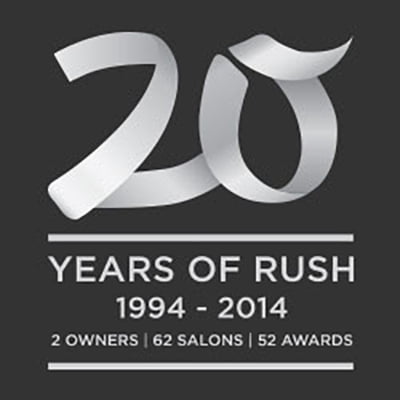 20 Years of Rush Hair and Beauty
The Rush story began in Wimbledon in 1994 where founders Andy Phouli and Stell Andrews shared one vision to create an inspirational brand with unique and creative hairstyles. Rush Wimbledon The brand quickly grew from strength to strength – in 1999 the Artistic Team was created and immediately began to make a mark on the […]
Back to listings

The Rush story began in Wimbledon in 1994 where founders Andy Phouli and Stell Andrews shared one vision to create an inspirational brand with unique and creative hairstyles.
Rush Wimbledon
The brand quickly grew from strength to strength – in 1999 the Artistic Team was created and immediately began to make a mark on the hairdressing industry. Their ground breaking creativity and extraordinary talent has led them to win an outstanding amount of awards. Their impact on the worldwide hairdressing industry, coupled with an ever growing celebrity clientele, is testament to their passion for their craft.
Rush Artistic Team
In 2008 we opened the Advanced Academy. The ethos of the academy was to encourage and help build strong foundations for everyone involved in our brand. Courses taught by the inspirational Artistic Team today instill passion, creativity and ensure skills are continually nurtured and developed.
2010 marked a new landmark when we opened our 50th salon, Rush Earls Court Road. To celebrate this success we partnered with Great Ormond Street Children's Hospital's HAIRraising campaign and raised over £50,000. We continue to support this charity today and have raised over £100,000 to date.
In 2010 the Rush Session Team was headed up by renowned editorial hairstylist Tina Farey. Tina is well known in the fashion industry and can often be seen back stage at London Fashion Week having worked alongside the likes of Belle Sauvage, Pam Hogg and PPQ to mention a few.
In 2012 we launched our flagship hair and beauty salon The House of Rush, in London's Piccadilly. The inspiration for this salon was greats of a bygone era; this luxurious, classic salon offers the finest and most indulgent treatments to be found in modern Mayfair.
With over 62 Rush Hair and Beauty salons across London and the South, each salon has something unique and special to offer its customers. We have grown very quickly as a business and have further plans to continue our growth and stay to true to the brand that was started by two great friends back in 1994.