How to get Beautiful Shine with Kérastase Ultime
The smoother your tresses the more the sun illuminates and reflects your shine.  Keep your mane smooth and shiny with Kérastase Elixir Ultime range this summer.  The collection works hand in hand to get your hair from dull and lifeless to voluminous and lustrous. Find out more about all our Treatment Services in Salons Get […]
Back to listings
The smoother your tresses the more the sun illuminates and reflects your shine.  Keep your mane smooth and shiny with Kérastase Elixir Ultime range this summer.  The collection works hand in hand to get your hair from dull and lifeless to voluminous and lustrous.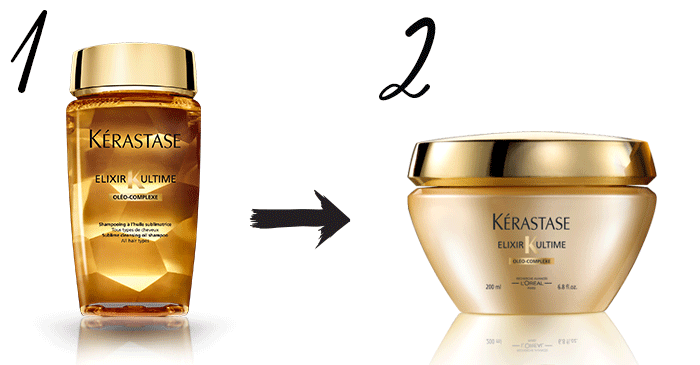 Get your hands on the Elixir Ultime Sublime Cleansing Oil Shampoo. Its Oleo-Complexe contains a combination of four precious oils leaving your hair feeling rich to the touch, luxuriously soft. How to use: Apply to wet hair, massage in and rinse thoroughly.
Then, use the Elixir Ultime Beautifying Masque to intensely condition your strands.
Heavily enriched with a high concentration of sublime oils, this masque, leaves hair feeling nourished with a lustrous shine.  How to use:  Apply a small amount of Masque to the lengths and ends of your hair. Massage in gently,  focusing on the most damaged areas.
Leave it in your hair for 5 minutes then rinse well.
Damaged Hair?
Elixir Ultime with Immortal Moringa Extract
Revive damaged tresses with this beautifying oil for damaged hair. It's enriched with the Oléo-Complexe and Immortal Moringa extract that leaves your hair feeling replenished.
How to use: Pre blowdry your hair then finish with a small amount of serum and making sure to cover your ends,  then retouch.
Fine & Sensitised Hair?
Elixir Ultime with Millenium Rose Extract
Improve the strength of your strands.  This oil leaves sensitised hair feeling nourished and soft, without weighing it down. How to use: Pre blowdry, Finish and Retouch.
Colour-Treated Hair? 
Elixir Ultime with Imperial Tea Extract
Perfect for you frequent colour lovers! Make the most of our 50% off Colour Day offer at Rush Salons. This oil is protects your hair fibres and adds a luminous look. How to use: Pre Blowdry, Finish and Retouch.
Stock up on your styling products in Rush Salons or online at Shop Rush