Dark Hair with Highlights & Balayage: 20 Stunning Ways to Wear
Sophisticated and striking, an ultra-dark mane is incredibly versatile. Add in the glow of coloured highlights or a touch of balayage and you can give new dimension to your 'do. Talented Seung-ki Baek, our Art Team member shares 20 creative ways to wear dark hair with highlights or balayage, and when you've got the inspo […]
Back to listings
Sophisticated and striking, an ultra-dark mane is incredibly versatile. Add in the glow of coloured highlights or a touch of balayage and you can give new dimension to your 'do.
Talented Seung-ki Baek, our Art Team member shares 20 creative ways to wear dark hair with highlights or balayage, and when you've got the inspo you need, why not find your closest Rush hairdressers to make your colour fantasy, a reality.
1. Blonde highlights & balayage on dark wavy tresses
A staple contrast of hues, dark hair with blonde highlights at the front and balayage throughout creates a clear lift of colour, but brings out the dark shading of your locks.
2. Marbled copper balayage in a dark bob
Strands of copper throughout the hair brings momentary flashes of colour, while blending naturally into this dark bob.
3. Black wavy locks with brown shaded highlights
Highlights don't always equal a bold contrast. Our client's mocha highlights set against jet black hair create a sleek but subtle change.
4. Chocolate curls with caramel balayage
Adding sweet caramel highlights or balayge to dark chocolate lengths makes for an indulgent, premium look.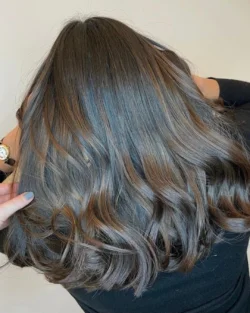 5. Brown waves with icy balayage
A mix of Icy and caramel shades sounds daring, but it can give new depth to brown hair and the results are stunning.
6. Bold blonde streaks in black hair
A new statement 'do can sometimes be the change you need, so why not embrace contrast? Make like our black-haired client with stunning, '00s-style blonde streaks.
7. Wavy chestnut hair with auburn highlights
Subtly bringing depth and character to a dark mane, chestnut hair and warm auburn highlights is a match made in heaven.
8. A second dose of auburn
This honeyed auburn balayage frames our client's face and neatly complements a flicked finish.
9. Golden blonde highlights on curly hair
Rich with varying golden shades, these ringlets celebrate volume and give vibrancy to our client's look.
10. Tonal balayage on dark hair
Tonal highlights or balayage are anything but dull. In fact, banishing dullness is their MO. If your colour feels flat and devoid of dimension, tonal colours can give much-needed definition and the illusion of volume.
11. Black hair with royal purple and blue balayage
This futuristic style merges black hair with royal purple and blue ombré for a stunning waterfall effect, focusing all the attention on your creative choice of shading.
12. More tonal chocolate
Peppered through liquid-smooth curls, these highlights enhance our client's rich, deep base colour. Look at that gloss.
13. Dark hair with sandy balayge
Sandy-blonde balayage gives our client's mane a reflective, lively look.
14. Dark hair with a partial balayage
Lightening certain sections of your flowing 'do with a partial balayage brings gentler definition and staggered depth.
15. Dark hair with dark brown highlights
Enhancing the dimensions of your waves and the natural shade of your tresses, dark hair with dark brown highlights is a beautiful way to add volume.
16. Dark hair with strawberry blonde balayage
Dark hair and strawberry blonde sounds like a brave mix, but it can be subtle and feel really natural, as seen on our client.
17. Bronde highlights on dark hair
Feminine and chic, this bronde 'do wouldn't be out on place on Love Island.
18. Dark hair with very subtle balayage
You might not even notice that our client has balayage, but they give her locks a warm glow, and extra body.
19. Black hair with brown-red balayage
A luxurious shade to make your mane feel fabulous, a brown-red balayage is rich in depth and striking in style.
20. Dark hair with uber-natural balayage
Get a perfect shade and enhanced dimension for your dark tresses, with ripples of balayage highlights. They create a soft and beautiful transition, and perfectly mould into your mane.
Whatever shade or length your dark hair is, there are beautiful options aplenty for striking highlights and colourful balayage. At the other end of the colour chart, read about the ash-blonde hair looks taking this year by storm!