Can I Go From Dark Hair to Blonde Hair in One Sitting?
Can I go from brown to blonde hair in one sitting? Making the switch from brunette to blonde is the perfect fun look for summer, but achieving those bouncy golden tones can be easier said than done. You could need multiple sessions to go from brown to blonde hair safely, without risking lasting damage to […]
Back to listings
Can I go from brown to blonde hair in one sitting?
Making the switch from brunette to blonde is the perfect fun look for summer, but achieving those bouncy golden tones can be easier said than done. You could need multiple sessions to go from brown to blonde hair safely, without risking lasting damage to your locks. Kirsty Judge, part of our Colour Workshop team, tells us everything we need to know about going blonde in one sitting.
Is it possible to go from brown to blonde in one session?
Because everyone's hair is unique, there's no singular answer to how quickly you can switch up your look from dark brown to blonde. Kirsty explained: "Hair stylists are constantly asked if a client can go from brown to blonde in one visit to the salon. While it will vary from one person to the next, the answer is often no. All of us are individuals, and so what can work for one of us won't work for someone else. Even if your hair is a similar colour to a friend who went blonde, it doesn't necessarily mean you will be able to".
"Your hair grows at an average rate of just over a cm a month. That means that if your hair is straight and reaches below your collarbone, it is likely to have been growing for at least 2 years to get that long. So, the hair on your head will be a product of everything you've done to it over that period. Over that time, it will have been affected by your health, your diet, heat styling, and the shampoos, conditioners and styling products you've used. Pollution and any chemical processes you've had on it at that time, such as straightening, perming and colouring, will also all affect your hair".
Brunette to platinum-blonde locks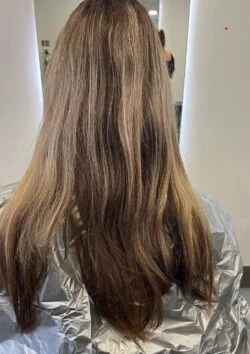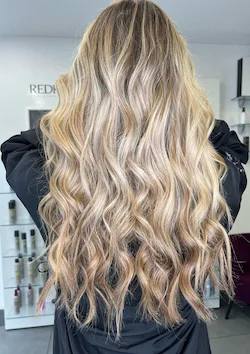 How do previous colours affect the brown to blonde process?
The best way to go from brown hair to blonde is by removing the darker colours from your hair, step by step. Heading straight for the platinum-blonde dye won't just waste your time and money, it could potentially do your hair a lot of damage, too.
Kirsty explained: "Any oxidising hair colour that you have had in your hair will leave colour pigments (this includes ones that say they last '6-8 weeks'). Unfortunately, these colour pigments cannot be lightened or changed, despite common belief, by simply popping another colour on your hair. So, if you want to go from brunette to blonde, you will need to use a 'bleach' to do so".
For the best results, your stylist will create your dream blonde colour over time, taking you a shade or two lighter every 6-8 weeks. You might find that your current hair colour is disguising a whole range of shades underneath, especially if you've coloured your hair more recently; in this case, you'll need more sessions to get to lighter, brighter locks.
The texture of your hair can have an impact on how easily your locks can pick up your new colour, too. If you have coarse, thick hair, it's likely that you'll need more sessions to achieve a blonde look, while those of us with fine hair will find that their locks appear more vibrant, more quickly.
Before transitioning from brunette to blonde, speak to your stylist and take their advice. They want for you to achieve your dream colour, without having to go through the process of restoring damaged hair.
Brunette to dark-blonde colour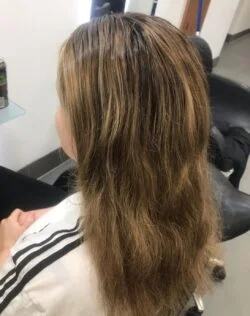 Is going from brown to blonde hair right for me?
Once you've decided to take the plunge from brunette to blonde, there are several things to take into consideration:
1. Will blonde hair suit me?
If you've always had darker hair, you may not be sure blonde hair will suit you. As a general rule, your skin tone indicates the best hair colour to make your features pop. If you've got naturally dark hair but light eyes, you'll likely suit both blonde and brunette hair tones.
If you've got dark hair and dark eyes, you might find it harder pull off a natural blonde look – but that's not to say blonde is completely off-limits to you! You could consider a balayage colour, where your natural colour frames your face. This kind of softer blonde look can also be achieved more quickly than a full head of blonde colour.
If you want to get from brunette to blonde sooner rather than later, balayage, highlights and ombre could work for you.
2. Is my hair in the right condition to go blonde?
Kirsty said "I hear all the time that someone's hair is stronger than I think, or that they don't mind if their hair's in a bad condition as long as they're blonde. But trust me, the reality of poor conditioned, over-processed hair is far harder to live with. It will look dull and straw-like, be harder to manage and style, plus the colour will fade far more than with well-conditioned hair."
Using nourishing, strengthening every-day products – Kirsty recommends Blond Absolu Cicaflash by Kerastase – will minimise damage and keep your strands moisturised.
3. Can I afford regular upkeep of blonde hair?
Going brunette means less commitment and expense than maintaining blonde tresses. The initial service is likely to be more expensive, and this will be the case throughout the process of going blonde, whether you achieve the colour you're looking for in one sitting or not. If you're not a natural blonde babe, you'll need regular appointments every 6-8 weeks to achieve silky, shiny blonde hair.
To maintain your hair's blonde shade between salon visits, Kirsty recommends Kerastase's Blond Absolu range will help keep any brassy blonde tones away. The range includes ultraviolet care to neutralise any yellow shades, helping you maintain your preferred colour, while nourishing your hair at the same time.
You should also consider who is going to carry out your salon colour. It may seem economical to go for a lower-level stylist, but a senior stylist or company consultant will have years of experience and expertise, making them a master craftsperson in reaching your ideal shade.
4. How can I make sure my blonde hair stays healthy?
To help maintain the health of your hair both before and after you go blonde, you'll need to make sure your hair is protected from the elements, both night and day. Kirsty recommends making hydration a key part of your hair routine to avoid any damage.
Swapping to a silk pillow can help stop your strands from snagging while you get your beauty sleep in, while smoothing an overnight oil through your locks helps to strengthen and protect. Combined with a heat defence spray whenever you use heat (although it's best to use as little heat as possible on blonde hair), this will help your locks stay hydrated, and protect from frizz.
She said; "when you do wash and style your hair, try not to brush, braid or tie up your hair when it's wet. Your strands are at their most fragile when they're wet, so it's important to style them gently to avoid any friction or breakage."
Brunette to buttery-blonde colour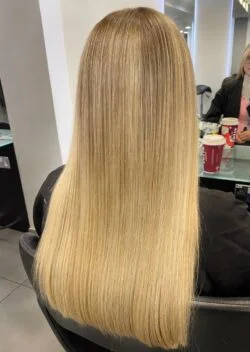 How does the process of going from dark brown to blonde work?
While the colour you're going for depends on your hair type and existing colour, your stylist will follow the same process to leave you with a full head of blonde hair . You can expect to be with your stylist for around 1.5 hours while your new 'do is being revealed.
1. Consultation: Your stylist will discuss your ideal colour with you
2. Hair colouring: Your chosen colour will be mixed and applied to your hair with foils
3. Wash and rinse: Once the colour has taken, we'll gently rinse your locks, and shampoo and condition
4. Express blow-dry: Your hair will be dried, so you can see your new colour in all its glory
Once the initial colour has been applied to your hair, your stylist will advise you on the next steps to take to achieve your desired shade. The number of extra sessions you'll require depends on your current colour, but you'll likely need to visit your stylist every 6-8 weeks.
Once you've got the blonde locks of your dreams, you'll need maintenance visits every 8-10 weeks to make sure that your colour lasts.
Whether you want to go a shade or two lighter, or choose a whole new hue, our team can talk you through the colour change steps you need to undertake to achieve a hair colour that's right for you. Visit your nearest salon today.