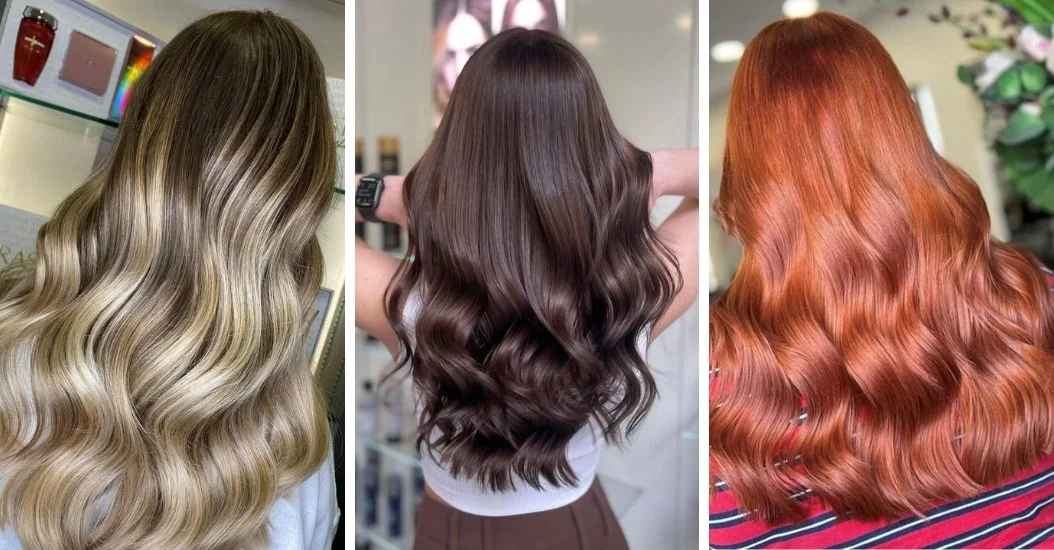 Hair Types Explained | A Guide to the 12 Hair Types
Getting the most out of your hair, and finding a style you love, isn't always easy. There are all sorts of factors to consider; colour, cut, fashion and personal taste… but also, whether your chosen style is really suited to your hair. We're all guilty of forgetting that last one when the latest trend looks […]
Back to listings
Getting the most out of your hair, and finding a style you love, isn't always easy.
There are all sorts of factors to consider; colour, cut, fashion and personal taste… but also, whether your chosen style is really suited to your hair. We're all guilty of forgetting that last one when the latest trend looks incredible on our favourite influencer or celebrity, but leaves us tying our hair up for six weeks.
So, before you start browsing peachy highlights or long bob inspiration, you might want to answer two key questions: what are the different hair types, and what is your hair type?
That's where we come in. Here's Sophie Chandler from our Artistic Team & Croydon Stylist, to explain the 12 major hair types; what defines them and the most effective ways you can care for your mane, once you know it a little better.
With this handy info by your side, book an appointment at your nearest Rush salon, so we can help you find the right 'do for you.
What are hair types?
Whenever we talk about types of hair, we're usually referring to your curl pattern and hair thickness. Different follicles produce four broad categories; straight, wavy, curly and coiled, and each of these has three subcategories, forming the 12 different hair types.
Whether it's poker-straight and fine, or tightly coiled and thick, knowing your natural hair type can give you a better understanding of how to style and care for it.
If you're trying to work out which category your strands fall into, make sure you wash it first, so it's completely free of styling products, then examine individual strands closely in the mirror.
Type 1 – straight hair
Straight hair has no curl to it. Natural oils from the scalp tend to move more easily down the length of each strand, which can give straight locks an appealing glow.
However, this can sometimes lead to a greasy look, particularly if your hair is on the finer side. Dry shampoo (rather than over washing) should help to cleanse oily hair without adding to the problem.
Type 1A – poker-straight
1A is the least common hair type; it's extremely fine and perfectly straight. By its nature, this hair type can look a bit flat and limp, and might prove difficult to style.
Dry shampoo can be your ally in the fight against excessive oil, and products designed to moisturise and hydrate (such as leave-in, oil-based masks) are best avoided, as they can weigh down your mane.
You might also like our guide to haircuts that make thin or fine hair look thicker: layers and shorter cuts are a fun way to experiment with this hair type, while reducing weight and adding the appearance of volume.
View this post on Instagram
Type 1B – straight, with a little texture
1B has a bit more volume and body than 1A, with a slight bend towards the end of each strand, which makes it more likely to hold a curl and less likely to appear flat. It's still naturally very straight though, and with fine-to-medium density, will lean more towards oiliness than dryness.
View this post on Instagram
Type 1C – straight, with almost-waves
Of all the straight hair types, 1C is typically very thick. It has a suggestion of waves without falling into the wavy category, and your strands will be relatively coarse. An attractive, tousled look comes naturally to 1C hair.
These manes are versatile; they are likely to keep your desired style all day long (whether curly or straight) and can go longer between washes. You might find that your hair tends to frizz, which a nourishing serum can help to tame.
View this post on Instagram
Type 2 – wavy hair
Wavy hair, often called 'mermaid hair', should naturally form an 'S' shape. In many ways, wavy hair is a happy medium between straight and curly hair, but it isn't always easy to maintain.
Type 2A – tousled hair
2A is a gently wavy hair type with a naturally tousled look. An S-shaped bend might just about be discernible, but it'll be loosely defined. 2A hair tends to be straight from the roots to eye level, then gently wavy to the tips.
Type 2A is similar to 1A in that it needs more frequent washing and intermittent dry shampooing to avoid greasy roots, though the ends will probably rely on regular conditioning.
Think you've got 2A hair? You'll find that you can easily straighten or curl your locks, but you should be wary of heat damage over time.
View this post on Instagram
Type 2B – S-shape waves
This naturally tousled hair type is similar to 2A but tends to be characterised by a more defined S shape, which can mean it's harder to straighten. With fine-to-medium thickness, 2B waves won't need as much encouragement to show off as 2A waves do, with more distinct curls starting around your eyes.
Frizz can become an issue with this category of hair, so you might find yourself reaching for the anti-frizz or opting for a smoothing treatment .
View this post on Instagram
Type 2C – defined waves with a few curls
2C is thick and often characterised by more tightly defined waves, which almost verge on curls! Starting close to your crown, the waves are mostly still S-shaped, but can have coarser textures mixed in.
Like 2B, the 2C hair type is prone to frizz. De-frizzing products, like diffusers and conditioners, work wonders to stop frizz in its tracks.
View this post on Instagram
Type 3 – curly hair
The curly hair type is characterised by naturally defined ringlets; these tend to prevent your scalp's natural oils spreading down the full length of your strands. What this means is that curly hair is prone to dryness.
Leave-in conditioners, hair masks and limited use of styling products when your mane is damp, let spirals naturally find their shape, along with maintaining natural shine.
Type 3A – big and loose curls
The loosest curly hair type, 3A often features a mix of tight waves alongside loosely formed loops. It's possible to straighten this hair type, but take care, as it can be prone to heat damage.
Curl-enhancing mousse is the best option to define and care for 3A curls.
View this post on Instagram
Type 3B – bouncy ringlets
3B curls are a lot more spiralled than 3A. These ringlets are abundant and springy, and tend to start at the roots. 3B hair can be dry, so moisturising products are a must.
View this post on Instagram
Type 3C – corkscrew curls
Made up of tight, springy, corkscrew curls, 3C manes pump up the volume. They're ultra-thick, but are prone to frizz. For this hair type, blow-drys and combing are best avoided; instead, leave-in conditioners and moisturising oils help fight dryness.
View this post on Instagram
Type 4 – coily hair
Coily hair is coarse and kinky, retaining its shape when wet rather than straightening out into waves. Coily hair doesn't have the same discernible ringlets that curly hair types have.
Type 4A – tight coils
Type 4A hair features dense, tightly coiled curls that are usually around the diameter of a pen. Unlike other coiled hair types, 4A hair falls downwards, like in categories 1, 2, and 3.
Softer and finer than 4B or 4C, this hair type tends to be extremely delicate. While it retains more moisture than its subcategories, it will benefit from hydrating products like butters, creams and masks.
View this post on Instagram
Type 4B – zig-zag curls
Characterised by tight zig-zagging kinks. Defined curls can easily become overwhelmed by frizz, and it can take a time-consuming regime to maintain well defined curls. Again, butters and curling creams can help.
View this post on Instagram
Type 4C – dense, high-volume coils
The tightest category of coiled hair, 4C coils are extremely dense (think 70s afros) and it can be hard to discern any defined curls. This category of hair is quite fragile and hard to untangle, so cautious brushing is advised.
Rich conditioners are your friend, so you might decide to ditch shampooing in favour of co-washing.
View this post on Instagram
Whichever of the 12 hair types your strands fall under, your hairdresser will be able to support you in choosing a style that complements it, giving you extra tips on looking after it too. Why not try a new look at Rush, today? Head back to the blog for more hairspiration.